About our B&B
What do you do if you're lucky enough to live in a typical Brussels townhouse, in a beautiful location, that's just a bit too big for you?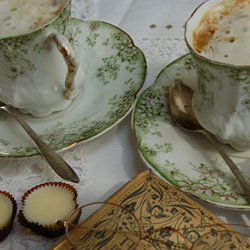 What do you do if one of your hobbies is entertaining friends? If uncovering the secrets of the city is one of your favourite pastimes, and come what may you just want to share your discoveries with friends?
What do you do if you've a weakness for old porcelain, knick-knacks from times gone by and eye-catching antiques?
What do you do if you're transported away by the merest sight of stiff-starched linen, embroidered napkins and tablecloths?
What do you do?
You set aside a good-sized part of your house for guests from every corner of the world, and let them enjoy.
Welcome to Brussels,
Your hostess, Lucille