Accomodation
You'll be staying with a maximum of four other people in a tastefully renovated Brussels townhouse. The whole upper floor (80 square metres) with mezzanine will be yours.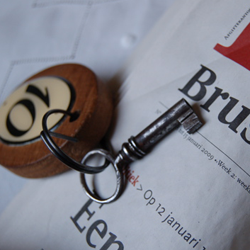 The décor combines a feeling of luxury, authenticity and nostalgia. All the materials used are either original or traditional. The furniture, the wash-basin, the dishes, the linen are all finds from markets and brocantes, and give the "Tous les jours dimanche" a fresh and original character. On the other hand, the decoration and fittings are absolutely contemporary.
You'll find one sleeping space, a seating area, a dining area and a luxurious bathroom. You can also make use of the large roof-terrace which overlooks the leafy back garden.
"Tous les jours dimanche" is in a great location, whether it's for a tourist visit or a business stay. We offer you a magnificent view of Brussels, taking in the Atomium, the Royal Palace of Laeken, the Basilique of Koekelberg. On a clear day you can see as far as Tours & Taxis and the Japanese Tower.
And of course your hostess is on hand with handy tips to make your stay unforgettable.