In Brussels
"Tous les jours dimanche" has an excellent location. In a quarter of an hour you can be on the Grand Place and at most of the main tourist attractions, either by public transport or by car. Zaventem airport is only a quarter of an hour away (in the other direction!). And the industrial areas to the north of the city are also within easy reach.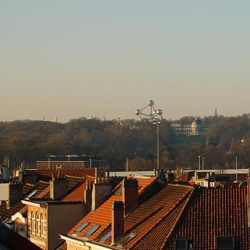 From your window you'll have an outstanding view over Brussels, as far as the Atomium, the Royal Greenhouses, the Baslique of Koekelberg and, if we point you in the right direction, the Japanese Tower and Tours & Taxis.
You'll have a flatscreen TV and DVD, as well as access to wireless internet. We have a wide choice of DVDs, as well as a selection of books on Brussels which go further than the usual tourist guides.
Your hostess will be able to provide you with handy and useful advice to help your stay go smoothly, as well as some secret addresses and insider tips to help you discover the real Brussels.
Brussels: a world-class city as manageable as a small town.