Mmmmm, delicious ...
Enjoy your morning peace and quiet with a typical Belgian breakfast, served on grandma's porcelain and brought to you at the time you want.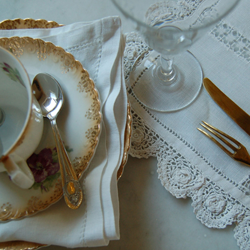 What's on the tray depends on the season and your hostess's inspiration, but there's all you'll need, and plenty of it.
And if you have any special requests or requirements, just let us know and we'll be happy to put together a breakfast you won't want to see the end of!
The dining area, in addition, also includes a large fridge/minibar, and a genuine Italian espresso machine. So at any moment of the day you can enjoy a refreshing Belgian beer, a soft drink or the smell and taste of a cup of espresso coffee.
Just across the road from "Tous les jours dimanche" is a branch of one of our major supermarkets where you'll find a selection of Belgian specialities and freshly-prepared ready-meals. If you're staying for more than three nights, we'll install a microwave oven, too.
And of course Brussels has no shortage of excellent restaurants for all tastes and budgets. Just ask us for some tips!